We are a growing group of slacklining people from Freiburg and the surrounding area. What we share is our common enthusiasm and passion for balancing on webbings in the park, at the lake and in the heights.
To promote the sport of slacklining in Freiburg and the Black Forest, we joined forces in February 2021 and founded the Slackline Freiburg e.V.. As a non-profit association, we want to network active people, train together, make it easier for interested people to get started in the sport and promote a safe and environmentally friendly practice of the sport as well as represent the interests of our sport in Freiburg and the region. It is our special concern to find suitable places and arrangements together with the city, the forest and other actors, which enable training and workshops in highlining.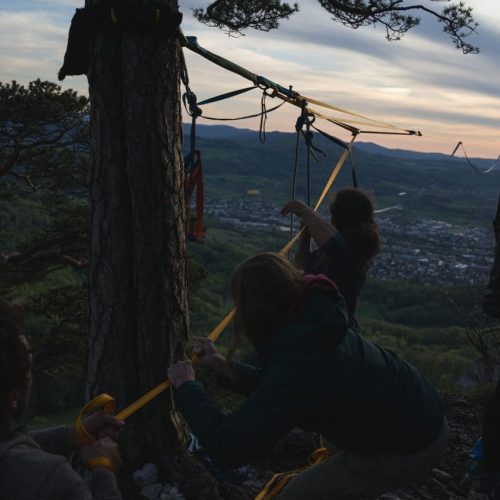 You want to slackline together, are looking for ideas for new tricks, an introduction to highlining or just want to support our work as a association?
-> Then send us the completed form by mail and become a member of Slackline Freiburg e.V. !
We welcome everyone who shares our joy of slacklining and the principles of respectful interaction with people and the environment.
As a member you strengthen our voice as a representative of the sport of slacklining in discussions with the city and authorities, you can get involved in the development of the association, participate in joint activities and soon also borrow gear from our gear pool.
The membership fee is 25€ per year.
(The membership form is only available in German, but please let us know in case you need translation)
The association is still very much in its beginnings, but of course there are already lots of ideas and plans for workshops and excursions together, and we are in the process of creating a shared gear pool.
Every Wednesday from 3:30 pm open slackline meeting in Dietenbachpark (if weather is ok), for all who are motivated and interested, whether association member or not. We will set up a few slacklines, but feel free to bring your equipment as well. The goal is to establish a regular meeting place, to train together, to network and to give newcomers a try. We're happy to give tips, answer questions about setup, etc.